technology
Auto Balancer
In the full rotation range from low rotation to high rotation, the blur around rotation can be brought as close to zero as possible. This makes it effective for improving the surface roughness of the workpiece, extending the life of wheels and drills. It can be installed on all machine tools.
Automatic Balance control device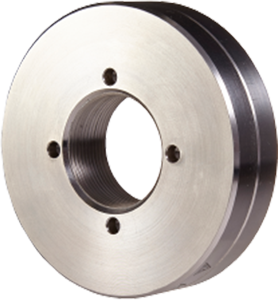 No electricity or magnetic force

Electricity and magnetization are unnecessary. Only require the turning power.
Change the turning power to the centripetal force and keep the core swing as close as possible to zero.

Pursuing dynamic run out accuracy

Do you need static shake accuracy in no-load condition or dynamic shake accuracy in processing load state? Auto Balancer balances and concentrates on processing load fluctuations.

Auto Balancer effective for machining centers and grinding machines

The swing of the tool with Auto Balancer attached to the machining center approaches zero as much as the rotation gets higher. The flange with the Auto Balancer reduce the rotational runout of the grinding wheel in the range of higher rotation.

Potential for any rotary axis

When installing the auto balancer and raising the rotation, the rotational blur approaches zero. It also balances rotation load fluctuations to achieve ideal rotation. As a result, the tool performs ideal wear.
Improve surface accuracy with auto balancer
Ry comparison
case 1

Large grinding machine without Auto Balancer(manufactured by O company in 2000) Table 1500 mm x 600 mm

Case 2

With Auto Balancer to the grinding wheel of Case 1

Case 3

Large grinding machine with water striking balancer (manufactured by N company in 2007) Table 1500 mm × 600 mm
※加工条件はすべて同じ
Result of Ry comparison
Equipment
Carbide part Ry
SKD11 parts Ry

case 1

156 Surface Grinder manufactured by O company in 2000 [ without Auto Balancer]

0.216 µm
0.278 µm

case 2

156 Surface Grinder manufactured by O company in 2000
[ with Auto Balancer]

0.102 µm
0.180 µm

case 3

156 Surface Grinder manufactured by N company in 2007
[ with Water striking balancer]

0.170 µm
0.223 µm
Surface precision of CASE 2 (with Auto Balancer) improved greatly with both carbide and SKD 11
Processing Experiment
Drilling experiment with φ0.8 drill at maximum speed of 40000 rpm
| Tool used | Drill used | C part after drilling | D part after drilling |
| --- | --- | --- | --- |
| Heat fitting tool | 0.8mm Drill | 0.809mm | 0.804mm |
| Auto Balancer | 0.8mm Drill | 0.801mm | 0.796mm |
For static shake accuracy of the tool, the heat fitting tool was 1 μm to 2 μm, the collet type Auto Balancer was 2 μm to 3 μm, and the heat fitting tool was excellent. However, it was confirmed that the result after machining (dynamic shake precision) is balanced against the machining load fluctuation by the Auto Balancer and approached the specified dimension.
840 hole continuous drilling experiment at 18000 revolutions using φ0.62 drill
Rotation speed:18000rpm / Cutting feed:10mm/min
Step:10μ / Material:NAC80 5mm
Processing content: φ0.62 drill through hole processing
| Processing result | 1st hole diameter | 840th hole diameter |
| --- | --- | --- |
| Without Auto Balancer | φ0.635mm | φ0.660mm |
| With Auto Balancer | φ0.633mm | φ0.640mm |
Comparison of the hole diameter of the first hole and the 840th hole, was 25um without Auto Balancer and 7um in the case with Auto Balancer, the stability with Auto Balancer became clear. The situation of the tip of the drill also showed obvious results when looking at the pictures.
It was confirmed that the stability of the accuracy and the long-term life of the tool have been reached.
Without Auto Balancer x250

With Auto Balancer x250
Experimental work on Linear Machining 40000 Rotation Specification
Material: NAC 80 HRC 40
Drill: NS MRT 425 φ 1 x 8 x 1 ° 30 "
Processing conditions: 25000 rpm, depth 8 mm, F 1000 mm / min,
Cutting 0.02 mm
Processing time: 28 hours 30 minutes
Drill cutting edge after machining with and without Auto Balancer
With Auto Balancer

Without Auto Balancer
The cutting edge using the auto balancer is evenly worn, however the cutting edge that is not used is unevenly worn